My Blog
Posts for tag: nutrition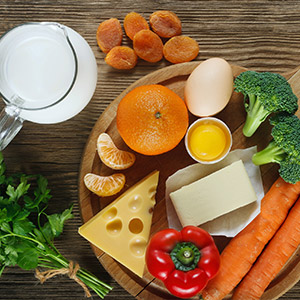 "Personalize Your Plate" is the theme for this year's National Nutrition Month in March, sponsored by the Academy of Nutrition and Dietetics. It means there isn't a single diet for all of us: We're each unique with differing body types and tastes, and our diets need to be unique as well. Still, though, you'll want to be sure to include basic nutrients that are generally good for all of us—including for our teeth.
As you "personalize" your daily diet, be sure it includes dental-friendly vitamins and minerals. Here are some of the more important ones that contribute to strong and healthy teeth, and the kinds of foods in which you'll find them.
Vitamin D. This vitamin is a key element for growing and maintaining healthy teeth and bone, mainly by helping the body absorb calcium. You'll find vitamin D in milk, eggs or fatty fish—and you'll also gain a little strolling outdoors in the sunshine!
Vitamin E. As an antioxidant, vitamin E helps the body fight free radical molecules that contribute to cancer development, including oral cancer. You'll find vitamin E naturally in seeds and nuts (and derivative cooking oils), wheat germ and whole grains.
Calcium. When included with vitamin D and phosphorus, calcium is an important "construction material" for building strong teeth and bones. You'll find calcium in dairy products like milk and cheese as well as greens, legumes and tofu.
Phosphorus. Eighty-five percent of the body's phosphorus, a companion mineral to calcium, is found in teeth and bones, where it helps to keep them strong and healthy. You'll find this important mineral in meats, milk and eggs.
Magnesium. This mineral helps mineralize teeth and bones, giving them strength and protection against disease. You can get magnesium by eating nuts, legumes, whole grains, dark leafy greens, seafood and—if you limit the added sugar content—chocolate.
Fluoride. Most people are familiar with fluoride added to drinking water or toothpaste to strengthen tooth enamel against tooth decay, but the mineral also occurs naturally in some foods. You can obtain low amounts of fluoride in seafood and black or green tea.
One last thing! While we're promoting foods that you should eat for healthier teeth, there's also one you'll want to cut back on: processed sugar. This carbohydrate is a major factor in oral bacterial growth that causes tooth decay and gum disease. So, eating foods low in sugar and high in these key vitamins and minerals will help ensure your teeth stay healthy.
If you would like more information about the importance of nutrition in dental care, please contact us or schedule a consultation. To learn more, read the Dear Doctor magazine article "Nutrition: Its Role in General & Oral Health."
When you were a kid, a plate of green beans or carrots probably seemed less appealing than a handful of cookies or a bowl of ice cream. Mom or dad telling you to "eat your vegetables" was the last thing you wanted to hear.
Hopefully, you've made friends with fresh fruits and vegetables as you've grown up. But even if you're just acquaintances, these foods are nonetheless essential to good health, particularly your teeth and gums. Among other things, they're packed with vitamins and minerals that help prevent tooth decay, gum disease or even oral cancer.
Here's a sampling of dental health-boosting micronutrients and the foods you'll find them in.
Vitamin C. Found in a variety of fruits and vegetables, vitamin C boosts the immune system to fight infections like tooth decay or gum disease. It's also an antioxidant that lowers your risk of cancer.
Calcium. This mineral obtained through dairy products, bony fish, greens and legumes, strengthens teeth and bones. It can also improve nerve and muscle function.
Vitamin D. This vitamin helps teeth absorb calcium to make them less prone to decay. You can find this essential vitamin in dairy foods, eggs, fatty fish or sunlight.
Phosphorus. Like calcium, phosphorus also strengthens teeth and bones. You'll find it plentiful in dairy and meats, especially seafood and poultry.
Magnesium. This mineral helps teeth and bones absorb other minerals and can also help with enzyme function needed to avoid disease. You'll find it in nuts, legumes, whole grains, dark leafy greens, seafood and chocolate.
If you don't think you're getting enough of these and other nutrients, you can obtain them through dietary supplements. But do be careful: The Food and Drug Administration (FDA) can remove harmful supplements from the market, but only after consumer use has provided evidence that they're unsafe. And, you won't be getting fiber or other elements found in regular foods that your body needs to be healthy and function properly.
Still, if you think you need to supplement a nutritional deficiency, speak first with your doctor or dentist about it and what you should take. If at all possible, though, eat your veggies—your teeth and gums, as well as the rest of your body, will be the healthier for it.
If you would like more information on nutrition's role in dental health, please contact us or schedule an appointment for a consultation. You can also learn more about this topic by reading the Dear Doctor magazine article "Vitamins & Dietary Supplements."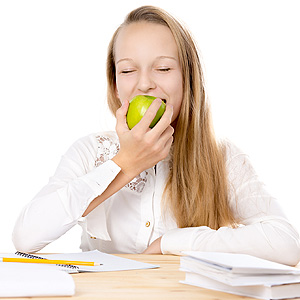 "The Freshman 15" is a popular way of referring to the phenomenon of new college students gaining weight during their freshman year (although the average is less than fifteen pounds). According to research, college students gain weight mainly due to an unhealthy diet and lack of exercise.
If you're experiencing this as a college student, you should also know poor diet and lifestyle choices harm your teeth and gums as well. If you don't want to encounter major dental problems, then you need to make some changes beginning with the same cause for your weight gain: what you eat and drink.
Like the rest of your body, your teeth and gums have the best chance for being healthy when you're eating a balanced, nutritional diet low in added sugar. And it's not just mealtime: constant snacking on sweets not only loads on the calories, it also feeds disease-causing oral bacteria. Sipping on acidic beverages like sodas, sports or energy drinks also increases the levels of acid that can erode tooth enamel.
Some lifestyle habits can also affect oral health. Using tobacco (smoked or smokeless) inhibits your mouth's natural healing properties and makes you more susceptible to dental disease. While it may be cool to get piercings in your lips, cheeks or tongue, the hardware can cause gum recession, chipped teeth and soft tissue cuts susceptible to infection. And unsafe sexual practices increase your risk for contracting the human papilloma virus (HPV16) that's been linked with oral cancer, among other serious health problems.
Last but not least, how you regularly care for your teeth and gums can make the biggest difference of all. You should brush and floss your teeth ideally twice a day to clean away plaque, a thin film of disease-causing bacteria and food particles. And twice-a-year dental cleanings and checkups will round out your prevention efforts against tooth decay or periodontal (gum) disease.
Making your own choices is a rite of passage into adulthood. Making good choices for your teeth and gums will help ensure they remain healthy for a long time to come.
If you would like more information on maintaining dental health during the college years, please contact us or schedule an appointment for a consultation. You can also learn more about this topic by reading the Dear Doctor magazine article "10 Health Tips for College Students."