My Blog
Posts for tag: mouthguards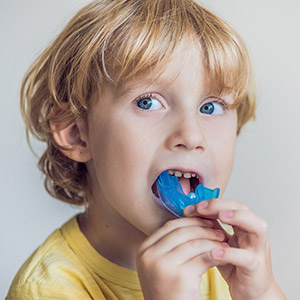 A wave of madness is about to sweep across Indianapolis and onto television screens across America—March Madness, that is. That's right: After its cancellation in 2020 due to COVID-19, the famed NCAA men's basketball tournament is back with all 68 games scheduled to be played in and around Indianapolis. As you can imagine, there will be numerous health precautions, and not just for the pandemic—there should also be mouthguards aplenty.
Why mouthguards? Although you might think football and hockey would be rougher on players' teeth, gums and jaws, basketball actually tops the list of sports with the most dental injuries. Such an injury occurring from a split-second contact with another player could take years to overcome.
Fortunately, mouthguards are a proven way to reduce sports-related mouth injuries among professional and amateur basketball athletes. Made of a pliable plastic, mouthguards cushion against blunt forces to the mouth generated during play (and not only formal games—practices and scrimmages too).
But while wearing a mouthguard is a no-brainer, choosing one can be a little intimidating. True, they all work on the same principle, but there are dozens of types, designs and price ranges.
We can, however, distill them down to two basic categories: "boil and bite" and custom mouthguards. You'll find the first kind online or in a local retail sporting goods store. It's named so because you first place it in hot water to soften it, and then place it in the mouth and bite down to create an individual fit.
As an inexpensive option, boil and bite mouthguards provide a level of protection. But they also tend to be bulky and uncomfortable, which can tempt players to wear them less. And the softer plastic (compared to custom guards) allows for a lot of jaw (and in turn, teeth) movement, which can cause teeth to loosen over time.
Custom mouthguards, on the other hand, are created by dentists based on impressions made of the wearer's mouth. As such, the fit tends to be more precise, requiring less material than the boil and bite variety, thus affording a greater degree of comfort. And there's less potentially damaging jaw movement with a custom mouthguard. As you might imagine, custom mouthguards are more expensive, but compared to the potential treatment cost for a sports-related dental injury, it's money well spent.
Investing in a custom mouthguard for your family basketball (or football, hockey or baseball) player is a sound way to protect their dental health. And that's not madness at all.
If you would like more information about athletic mouthguards, please contact us or schedule a consultation. To learn more, read the Dear Doctor magazine article "Athletic Mouthguards."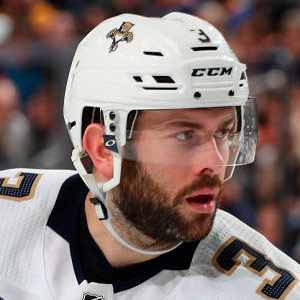 Professional Hockey player Keith Yandle is the current NHL "iron man"—that is, he has earned the distinction of playing in the most consecutive games. On November 23, Yandle was in the first period of his 820th consecutive game when a flying puck knocked out or broke nine of his front teeth. He returned third period to play the rest of the game, reinforcing hockey players' reputation for toughness. Since talking was uncomfortable, he texted sportswriter George Richards the following day: "Skating around with exposed roots in your mouth is not the best."
We agree with Yandle wholeheartedly. What we don't agree with is waiting even one day to seek treatment after serious dental trauma. It was only on the following day that Yandle went to the dentist. And after not missing a game in over 10 years, Yandle wasn't going to let a hiccup like losing, breaking or cracking nearly a third of his teeth interfere with his iron man streak. He was back on the ice later that day to play his 821st game.
As dentists, we don't award points for toughing it out. If anything, we give points for saving teeth—and that means getting to the dentist as soon as possible after suffering dental trauma and following these tips:
If a tooth is knocked loose or pushed deeper into the socket, don't force the tooth back into position.
If you crack a tooth, rinse your mouth but don't wiggle the tooth or bite down on it.
If you chip or break a tooth, save the tooth fragment and store it in milk or saliva. You can keep it against the inside of your cheek (not recommend for small children who are at greater risk of swallowing the tooth).
If the entire tooth comes out, pick up the tooth without touching the root end. Gently rinse it off and store it in milk or saliva. You can try to push the tooth back into the socket yourself, but many people feel uneasy about doing this. The important thing is to not let the tooth dry out and to contact us immediately. Go to the hospital if you cannot get to the dental office.
Although keeping natural teeth for life is our goal, sometimes the unexpected happens. If a tooth cannot be saved after injury or if a damaged tooth must be extracted, there are excellent tooth replacement options available. With today's advanced dental implant technology, it is possible to have replacement teeth that are indistinguishable from your natural teeth—in terms of both look and function.
And always wear a mouthguard when playing contact sports! A custom mouthguard absorbs some of the forces of impact to help protect you against severe dental injury.
If you would like more information about how to protect against or treat dental trauma or about replacing teeth with dental implants, please contact us or schedule a consultation. To learn more, read the Dear Doctor magazine articles "Dental Implants: A Tooth-Replacement Method That Rarely Fails" and "The Field-Side Guide to Dental Injuries."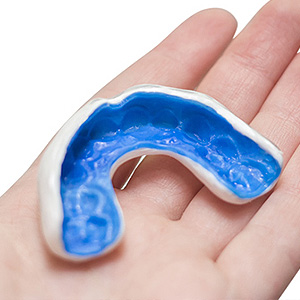 Other than tooth decay, children don't encounter dental disease to the extent adults do. But injuries are another story: More than 5 million teeth are knocked loose each year, and a high percentage involve children. Roughly a third of these and similar children's injuries are sports-related.
April is National Facial Protection Month: Several oral and facial health organizations, including the American Association of Orthodontists, have joined together to raise awareness about the risks of injury to the face and mouth, especially among children. Many of these injuries have long-term consequences with lifetime treatment costs in the thousands of dollars.
But as the name implies, this awareness month is also about protection—what you can do to help your child avoid a costly and devastating dental injury. Top of the list: Have your child wear an athletic mouthguard during all contact sports activities (including practices).
The National Federation of State High School Associations mandates mouthguard wear for football, lacrosse, and ice and field hockey. But those aren't the only sporting activities where a mouthguard should be standard equipment: In fact, basketball has more orofacial injuries each year than any other sport. Generally, mouthguards should be worn for any sports activity that involves potential contact with other players or objects.
There is a variety of mouthguard choices, but most fall into two basic categories, "boil and bite" and custom-made. The former, readily available in retail sports stores, get their name from the procedure employed when first purchased to adjust their fit to an individual player. Out of the package, they should be soaked in hot or boiling water until softened, and then placed in the wearer's mouth to bite down on. After they cool, they'll retain that bite pattern.
Boil and bite guards are relatively inexpensive, but the fit isn't as precise as a mouthguard that is custom-made by a dentist. This can lead to comfort issues—and players are less likely to wear an uncomfortable mouthguard.
Custom mouthguards, on the other hand, have a more accurate fit, allowing them to be thinner and more comfortable. They also provide the highest level of protection against blows to the face and mouth. These are more costly than boil and bite guards, and younger athletes may need a replacement every few years to accommodate jaw growth development. But compared to the physical, emotional and financial cost of a dental injury, custom mouthguards are worth the investment.
A mouth or face injury can happen in an instant and result in damage that can have lingering effects for years. For the best protection, see that your star athlete has and wears a custom mouthguard.
If you would like more information about mouthguard protection, please contact us or schedule a consultation. To learn more, read the Dear Doctor magazine article "Athletic Mouthguards."