My Blog
Posts for tag: dental implants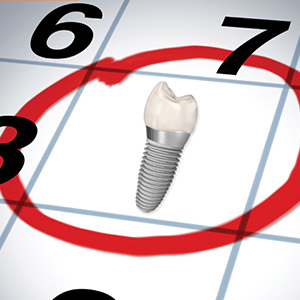 If you're thinking about getting dental implants, you may be curious about how long it might take. The answer depends on the health of your supporting bone.
Bone is an integral part of implant functionality as bone cells gradually grow and adhere to the newly placed implant to give it its characteristic strength. The implant also requires an adequate amount of bone to accurately position it for the best appearance outcome.
If the bone is sufficient and healthy, we can proceed with the surgical placement of the implant. The most common practice following surgery is to allow a few weeks for the bone integration described previously to take place before finally attaching the crown. With an alternative known as a "tooth in one day" procedure, we install a crown right after surgery, which gives you a full smile when you leave.
There's one caveat to this latter method, though—because the implant still requires bone integration, this immediate crown is temporary. It's designed to receive no pressure from biting or chewing, which could damage the still integrating implant. We'll install the permanent crown after the implant and bone have had time to fully mesh.
So, if your supporting bone is sound, the complete implant process may only take a few weeks. But what if it's not—what if you've lost bone and don't have enough to support an implant? In that case, the length of process time depends on the severity of the bone loss and if we're able to overcome it. In some cases, we can't, which means we'll need to consider a different restoration.
But it's often possible to regenerate lost bone by grafting bone material at the implant site. If the bone loss is moderate, it may take 2 to 4 months of regrowth after grafting before we can perform implant surgery. If it's more significant or there's disease damage to the socket, it may take longer, usually 4 to 6 months. It largely depends on the rate of bone regeneration.
In a nutshell, then, the health of your jaw's supporting bone has a lot to do with whether the implant process will take a few weeks or a few months. Regardless of the time, though, you'll gain the same result—new, functional teeth and a more attractive smile.
If you would like more information on dental implant restorations, please contact us or schedule an appointment for a consultation. You can also learn more about this topic by reading the Dear Doctor magazine article "Implant Timelines for Replacing Missing Teeth."
If you're considering dental implants, they'll need to be surgically placed in the jaw bone. But don't be alarmed — it's a relatively minor procedure that usually requires nothing more than local anesthesia.
But that being said, it's still an invasive procedure that involves making incisions in gum and bone tissues. That could introduce bacteria into the bloodstream and pose, for certain individuals, a slightly greater risk of infection.
But infection risk is quite low for most healthy patients. As a result, implants enjoy a greater than 95-percent success rate ten years after installation. But some patients have health issues that increase their risk of infection. These include older adults with a weakened immune system, smokers, diabetics or those well under or over their ideal weight.
If you have these or similar health situations, we may recommend undergoing an antibiotic treatment before you undergo surgery. This can help prevent bacteria from spreading and reduce the likelihood of an infection.
Preventive antibiotic therapy is commonplace with many other dental procedures. Both the American Dental Association and the American Heart Association recommend antibiotics before any invasive oral procedure for patients with prosthetic (false) heart valves, past endocarditis, a heart transplant or other heart conditions. To lower the risk of implant failure due to infection, we often advise antibiotics for patients who fall in these categories, as well as those with similar conditions mentioned earlier.
Of course, whether pre-surgical antibiotics is a wise choice for you will depend on your medical history and current health status. We'll consider all these factors thoroughly before advising you. But if you are more susceptible to infection, antibiotics before surgery could potentially lower your risk for an implant failure.
If you would like more information on implant procedures, please contact us or schedule an appointment for a consultation.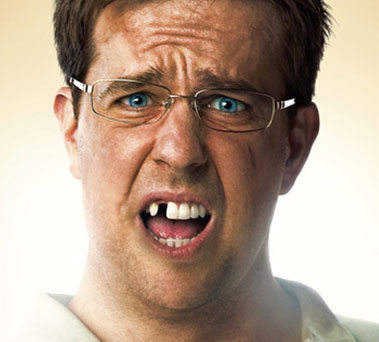 Ed Helms is best known for his role as the self-absorbed, Ivy League sales rep, Andy Bernard, on television's The Office. But to millions of fans he's also Stu, a member of a bachelor trip to Las Vegas in the 2009 movie The Hangover. In it, Stu and his friends wake up from a wild night on the Strip to find some things missing: the groom-to-be, their memories and, for Stu, a front tooth.
In reality, the missing tooth gag wasn't a Hollywood makeup or CGI (computer-generated imagery) trick—it was Ed Helm's actual missing tooth. According to Helms, the front tooth in question never developed and he had obtained a dental implant to replace it. He had the implant crown removed for the Hangover movie and then replaced after filming.
Helms' dental situation isn't that unusual. Although most of the 170 million-plus teeth missing from Americans' mouths are due to disease or trauma, a few happened because the teeth never formed. While most of these congenitally missing teeth are in the back of the mouth, a few, as in Helms' case, involve front teeth in the "smile zone," which can profoundly affect appearance.
Fortunately, people missing undeveloped teeth have several good options to restore their smiles and dental function. The kind of tooth missing could help determine which option to use. For example, a bridge supported by the teeth on either side of the gap might work well if the teeth on either side are in need of crowns.
If the missing tooth happens to be one or both of the lateral incisors (on either side of the centermost teeth), it could be possible to move the canine teeth (the pointy ones, also called eye teeth) to fill the gap. This technique, known as canine substitution, may also require further modification—either by softening the canines' pointed tips, crowning them or applying veneers—to help the repositioned teeth look more natural.
The optimal solution, though, is to replace a missing tooth with a dental implant which then has a lifelike crown attached to it, as Ed Helms did to get his winning smile. Implant-supported replacement teeth are closest to natural teeth in terms of both appearance and function. Implants, though, shouldn't be placed until the jaw has fully developed, usually in early adulthood. A younger person may need a temporary restoration like a bonded bridge or a partial denture until they're ready for an implant.
Whatever the method, there's an effective way to restore missing teeth. Seeing us for an initial exam is the first step toward your own winning smile.
If you would like more information about restoring missing teeth, please contact us or schedule a consultation. To learn more, read the Dear Doctor magazine article "Dental Implants."